CX Basalt Fiber Concrete Reinforcement - 40 lb Bag
The super-fine filiments of chopped basalt fiber create a barely detectable network of reinforcement within your concrete mix.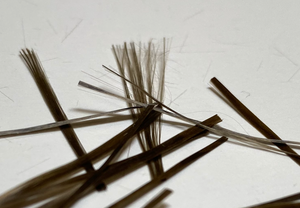 ---
About
Basalt Fiber is a better way to reinforce concrete.
High tensile strength. Above all other conventional reinforcements
Corrosion resistant. Will not decay or rust over time, unlike traditional steel.
Moisture resistant. Weathers the wettest environments with built in alkali resistance.
Chemical resistant. Compatible with nearly any admix you include in your concrete.
Frost and heat resistant. Takes freeze-thaw cycles in stride
Smooth Blending. Does not clump or ball during mixing like many pva and poly fibers.
Specs
Common Dosage: 2%-5% loading; based on cement in mix by weight
Dimensions: 12-50 mm (L) strands
Packaging: Heavy-duty plastic bags
Weight: 40 lb
Material: Basalt Fiber
Sustained Operating Temperature: 600ºC
Minimum Operating Temperature: -260ºC
Density: 2.75 g/cubic cm
Tensile Strength: 4840 M pa
Elastic Modulus: 49G pa
Compressive Strength: 550,000 psi