CX SmartColor™ Concrete Pigment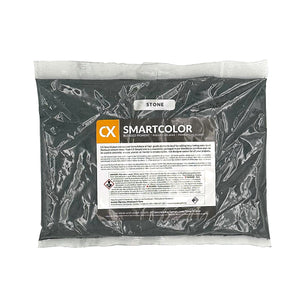 ---
About
CX SmartColor™ is a signature collection of versatile colors pre-measured for no-guesswork use in a variety of concrete mixes. Made of superior, blended pigments, the CX SmartColor line is perfect for creating concrete projects with stunning, long-lasting color.
Superior Quality, Signature Colors
High Grade, Fade-Resistant Pigments — CX SmartColors are integral concrete color formulas blended with the highest-grade pigments available and are durable against fading indoors or outdoors while maintaining the strength of concrete.
17 Rich Colors — You can easily achieve some of the most sought-after colors for concrete. Featuring 17 richly saturated, warm colors, CX SmartColor works with any design style and is the only concrete color line developed by a leading designer and concrete master craftsman.
How much CX SmartColor should be used to achieve full saturation of color?
CX SmartColor packs are pre-measured to saturate 1 cubic foot of concrete. These are some popular concrete countertop mixes and the appropriate amount of CX SmartColor to use to get beautifully colored concrete.
Each CX Pour-In-Place Concrete Countertop Pro-Formula kit requires three (3) CX SmartColor packs
Every 120-130 lbs of 5,000-psi bagged concrete mix requires one (1) CX SmartColor pack
Instructions
Mixing
CX Pour-In-Place Concrete Countertop Pro-Formula Mix
Blend 3 (three) packs of of CX SmartColor with:

1 (one) CX Pour-In-Place Concrete Countertop Pro-Formula dry mix (DO NOT add the CX Water Reducer at this point)
360 lbs of 5,000-psi dry cement mix
For full instructions on how to use CX SmartColor with CX Pour-In-Place Concrete Countertop Pro-Formula visit our How-to.
5000-psi Concrete Bagged Mix
Blend 1 (one) pack of CX SmartColor with 120 lbs of dry cement mix before the addition of water.
Suitability Sample
Because job site conditions and requirements can vary significantly, always prepare a sample. This is especially critical for custom coloration.
Disposal
Contact your local government household hazardous waste coordinator for information on disposal of unused product.
See More