Concrete Coatings GemKote™ 100 Clear Concrete Sealer
Make your concrete color and texture pop with Gemkote 100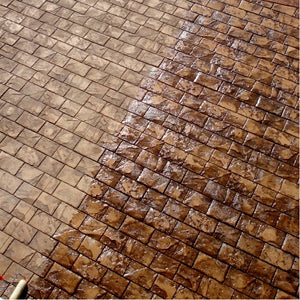 ---
About
GemKote™ 100 is a UV-resistant, solvent-based, crystal-clear sealer formulated for use in regions with VOC requirements below 100 g/l. A light coating of GemKote™ 100 will protect and enhance colored and textured concrete. Use GemKote™ 100 on porous concrete and masonry to form a shield against stains and mildew.
Description:
GemKote™ 100 is a premium-quality, non-yellowing, super tough acrylic film that is easy to clean and maintain. GemKote™ 100 protects with a gloss or matte sheen that penetrate the surface to retard efflorescence and resist oil, grease and food stains. GemKote™ 100 virtually eliminates concrete dusting and is tough enough to withstand the extremes of brutal freeze-thaw environments.
Uses:
GemKote™ 100 can be used on exterior masonry and concrete-type surfaces and as a base-coat, for interior applications where a compatible, commercial floor wax is planned as part of a maintenance program. Use on colored or uncolored, stamped or exposed aggregate concrete, porous brick, natural and manufactured stone, stucco, slate, unglazed tile and flagstone.
Calculator
How many square feet is your project?
Tip: multiply the length (in feet) by the width (in feet)
| Coats | 1 gallons |
| --- | --- |
| 1 coat | |
| 2 coats | |
| 3 coats | |
Specs
Coverage: 150 - 200 square feet per gallon
Dry time: 4 hours at 75ºF
Re-coat time: 1 - 3 hours
Solids content: 23% acrylic
VOC's: <100 g/l
Instructions
Preparation of Concrete:
Representative jobsite samples are strongly recommends. Individuals who will be performing the work should test different sections of the concrete to determine suitability, coverage, and final appearance. New concrete should be cured at least 28 days, prior to application. The application area must be completely clean and dry to the touch. Pressure washing and power scrubbing may be necessary.
Remove all efflorescence, oil, dirt, wax, old paints, sealer, and curing compounds. RINSE THOROUGHLY. Allow the surface to dry at least 24 hours. Soaps and detergents should never be used for cleaning. Dried residue on the surface will prevent the sealer from bonding.
Acid washing is NOT recommended. If acid is used, a representative area must be tested. Soak the entire surface with water before applying the acid mixture. When the fizzing stops, rinse with clean water. After 10 or 15 minutes, the surface must then be flushed with clean water and neutralized with a pH neutralizer such as ammonia, baking soda, or T.S.P. Repeat rinsing and neutralizing. Acid residue will prevent the sealer from penetrating. Allow the surface to dry for at least 24 hours prior to application.
NOT RECOMMENDED for pre-sealed or dense surfaces, such as glazed tile, marble or granite, dense brick, dense slate, or terrazzo. If in doubt, test the surface by sprinkling with water. If water beads up on the surface, additional cleaning and testing must be done. Do not use where hydrostatic pressure is possible.
Application:
Always test a small area of surface to verify protection and appearance. Use GemKote™ 100 full strength.
Thinning is not required. Apply 1-2 light, even coats (depending on porosity of surface) with a short-napped roller or a sprayer with neoprene seals and hose.
Allow 1-3 hours between coats or until the surface is dry to the touch. Apply in temperatures between 12.8°C to 26.7°C (55°F and 80°F). Avoid using in direct sunlight, especially on hot, windy days. Apply during the cooler part of the day when the surface is shaded. Do not apply on rainy or foggy days. Excess moisture will not allow the sealer to dry properly. Use only in well ventilated areas. It is recommended that foot traffic remain off the finished sealed surface for 24 hours. For heavy traffic, allow 72 hours for curing.
HELPFUL HINT: Use xylene for easy cleanup immediately after use.
See More