Surecrete HS 300LV Gloss Sealer - 5 Gallon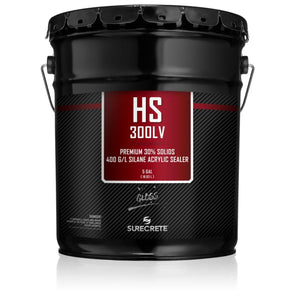 ---
About
SureCrete's HS 300LV is a premium, high performance, single-component, 30% acrylic solids, low VOC (400 g/L), sealer designed for SureCrete overlays or other cement based products.
Specs
Coverage: approx. 200-240 sq. ft. per gallon per coat
VOC Rating: less than 400 g/L
Solids Content: 30%
Instructions
SURFACE PREP
The principles for surface preparation for HS 300LV are aligned with other coating systems placed on concrete or cement based products, the substrate must be:
Clean: The surface must be free of dust, dirt, oil, grease, paints, glues, non- acrylic sealers, curing agents, efflorescence, chemical contaminants, rust, algae, mildew and other foreign matter that may serve as a bond breaker.
Cured: Cement-based overlays typically cure sufficiently overnight (refer to specific SureCrete overlay TDS.) Other cement-based products may require up to 28 days depending on temperatures & humidity.
Sound: No system should be placed on cement-based overlay that is flaking or spalling; substrate must be sound. If the surface is delaminating, then diamond grinding, shot blasting, or other mechanical means should be used to remove the delaminating areas.
Profiled: Customarily cement-based overlays do not require profiling. For other cement-based products proper profile should follow the standard established by the International Concrete Repair Institute (ICRI) Technical Guideline no. 03732 for Concrete Surface Profile (CSP). The established profile is categorized as CSP-1. To properly profile some cement-based products (especially exterior applications) use a pressure washer equipped with a turbo-tip and SCR (see SCR TDS). In one step SCR profiles, cleans, and provides a measure of degreasing. Some substrates may require more aggressive profiling through diamond grinding or shot blasting.
Recoats
HS 300LV's silane, acrylic formula creates the premier choice to reseal or refresh an existing decorative concrete project. The surface should be cleaned with a pressure washer and SCR (see SCR TDS).
Any old, loose and flaky sealer that is still present must be removed.

Chemically: Fast-Strip Plus, Enviro-Strip (see appropriate TDS), or other commercial stripper.
Mechanically: diamond grinding or shot blasting.

This product should only recoat an existing solvent based acrylic. Determine a substrate's unknown existing sealer by placing a paper towel saturated with xylene over a small area. Cover the towel with plastic and allow it to remain in place for 15 minutes. Solvent based acrylic may feel slippery to the touch, but water based acrylic turns into a slimy mess that can be scraped off easily.
Before recoating, prepare on-site a small test area on the intended substrate to establish compatibility of solvents and avoid blistering and delamination.
Recoat applications may be complete with a single coat, always evaluate surface to see if a second coat is needed. Best performance is achieved through thin coat(s).
APPLICATION
Planning
Product is flammable. Interior applications, turn off all fuel burning appliances and pilot lights.
Provide for ventilation so that vapors do not accumulate.
Select appropriate PPE (personal protection equipment). Use of a NIOSH approved respirator may be required. Refer to SDS.
Mask all areas requiring protection; product will stick to just about everything.
Temperature / Weather
Avoid application on extremely cold or hot days or during wet, foggy weather
Apply with ambient and surface temperatures ranging above 50°F (10°C) and below 90°F (32°C) and that will remain within ranges for at least 24 hours following application.
Do not apply outside if precipitation is forecast within 24 hours of application.
Substrate must be dry throughout all steps.
Mixing (applicable only to matte finish)
Mechanically mix with "Jiffy" style mixer blade for 3 minutes at medium speed for complete dispersal of matting agent. Use caution not to entrain air during mixing. No mixing is required for gloss finish.
First Coat
Rolling
Utilize a bucket grid to apply in a thin film.
Roller covers require a solvent resistant core.
The correct nap size varies due to texture. For example ¾" is recommended for heavy textured patterns, while ¼" mohair is recommended for very smooth surfaces.
Do not allow puddling.
Exercise care to eliminate roller tracks through back rolling.
Airless Spraying
Airless sprayer should be capable of a minimum .5 gpm discharge.
Tip size should be approximately .015" - .019" with 65° fan.
For horizontal surface utilize an 8" – 10" extension.
Maintain a wet edge between passes.
Pump-up Sprayer
Select solvent resistant sprayer.
Select fan or cone tip as preferred that can pass 30% solids product.
Have sufficient tips on hand to allow clean-up that will not interrupt application.
If necessary, backroll sprayed area to lay product flat.
When first coat is able to be walked on, a second coat may be applied. Best protection is achieved through the application of two thin coats.
Second Coat
Applies identical to first coat
Allow 24 hours cure time prior to foot traffic.
Allow 72 hours cure time prior to vehicular traffic.
Slip Resistance
Two recognized US agencies have issued directives on minimum coefficient of friction, OSHA (Occupational Safety and Health Administration) and Deparment of Justice through the ADA (Americans with Disabilities Act). ADA is the more stringent of the two. ADA directs that accessible walkways have a minimum coefficient of fricion of 0.6. Ramps have been directed to be 0.8. The applicator assumes the responsibility to meet these standards. Areas that may become wet, oily, or greasy require special attention. Refer to SureGrip (Additive) TDS and its accompanying coefficient of friciton table.
Suitability Sample
Due to condition specific sites, always prepare an adequate number of test areas. Wear protection system and aesthetic suitability for products' intended use should be included. On site sample approval is especially critical on substantial, heavy traffic situation or custom coloration.
Clean-Up
Before HS 300LV dries; spills and tools can be cleaned up with a solvent such as xylene or acetone.
Disposal
Contact your local government household hazardous waste coordinator for information on disposal of unused product.
Limitations
For use by trained professionals that have read the complete SDS.
Product perfroms best upon a concrete slab that has no ponding of standing water.
When masking use caution while taping to a floor that is not completely cured, especially at edges, as delamination may occur.
Protect from metal wheel traffic and some furniture where point of contact may be damaging.
Chemicals used in tire manufacturing may be detrimental to all seales from vehicular parking.
See More