700DG Blue Bear Surface Degreaser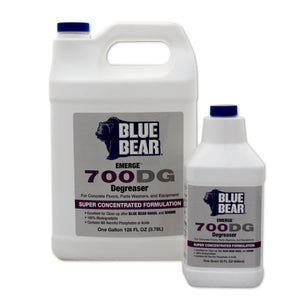 ---
About
Take all the guess work out of deciding on the best surface degreaser! Specially formulated to work with all BLUE BEAR products, 700DG is super concentrated and powerful enough to clean the dirtiest, toughest, and grimiest of projects. 700DG is a great product to help you easily finish clean-up after removing mastic, paint, or other coatings and adhesives.
Features:
Safe on Concrete, Masonry, Wood, and Metal
pH Level: 12.8
Helps to Easily Finish Project Clean-Up
Super Concentrated
Specially Formulated to Work With All Blue Bear Products
100% Biodegradable
Contains No Harmful Phosphates or Acids
Instructions
Mixing
For general cleaning of hard surfaces, mix 1 gallon of water with 4 oz. of 700DG.
Soak dirty tools in a soaking tray or bucket of diluted 700DG to keep tools clean for the next job. 1:1 mixing ratio.
For use with floor scrubbing machines, mix 1 part water to 1 part 700DG. 1:1 mixing ratio.
Application
Apply mixed 700DG freely to the floor or hard surface. Scrub surface to agitate and loosen oils, grease, dirt, and grime.
Clean Up
Pick up residue mixed 700DG with a mop, squeegee or commercial vacuum. Rinse or mop surface clean with water.
VOC (Volatile Organic Compounds)
<0.5%, 0.088 lb/g, 10.53 g/l
See More