Traxx LiquiShield 100 Roll-On Moisture Barrier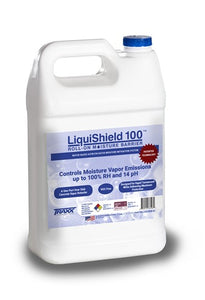 ---
About
Traxx LiquiShield 100 is a patented water-based copolymer product designed for rapid turnaround while delivering maximum protection. A one-part over slab vapor retarder. It utilizes nano sized particles to deeply penetrate into substrates delivering superior and permanent moisture control.
Where to Use:
Lightweight or structural concrete
Interior, new, or existing concrete substrates
Beneath moisture or alkaline sensitive floor covering
Calculator
How many square feet is your project?
NOTE: Coverages given are based on an average coverage of 275 square feet per gallon.
Specs
Coverage: 250-300 square feet per gallon
Dry Time: (73°/50%RH) 60 minutes
Solids Content: 35%
Concrete Bond Strength: >250 psi
Mastic Adhesion: >70 psi
Instructions
Surface Prep
Concrete sub floors must be clean, porous, and structurally sound in accordance with ASTM F710 Standard Practice for Preparing Concrete Floors to receive resilient flooring.
All substrates must be structurally sound and free from any contaminants that may inhibit product's ability to properly penetrate and/or bonding of patching/adhesives/finished flooring product, including oil, grease, dust, paint, sealer, floor finishes, curing compounds, and adhesives.
Weak or contaminated surfaces must be mechanically removed.
A specific CSP is not required, however thickness of surface removed must be deep enough to eliminate penetrated contaminants.
The type of mechanical cleaning is determined by the type of depth of contaminant to be removed.
Utilize ASTM F3191-16 Standard Practice for Determination of Substrate Absorption (Porosity) as an additional test procedure to ensure that substrate is clean and porous. Multiple test spots must be performed throughout all areas to receive Liquishield 100.
Mixing and Product Application
Agitate product by hand to ensure a uniform consistency prior to application.
Do not use high-speed mixing method.
Saturate a 3/8" roller and apply uniformly in a singular direction. Wait approximately 30 minutes, then cross roll a second coat in opposite direction.
For substrates with a CSP of 5 or greater utilize a secondary application method utilizing a 3/8" roller and follow the rolling with an exploded tip plastic broom and back broom material to ensure uniform coverage still applying in 2 coat method described above.
Best results are achieved by dipping roller in bucket or roller tray. Do not pout material directly on substrate as this will not provide uniform coverage.
Do not allow to puddle.
No additional priming necessary when applying cementitious patching or leveling product, or adhesives for finished flooring.
Ready for finished flooring in 30-60 minutes.
Limitations
Do not install over substrates containing asbestos.
Ambient and concrete surface temperatures must be at least 40°F.
Optimum installation temperatures are between 45°F and 100°F.
Do not allow product to freeze.
Do not thin product.
Cleanup
Clean tools and equipment with soap and water immediately after use.
See More