Westcoat CA-30 Small Safe Grip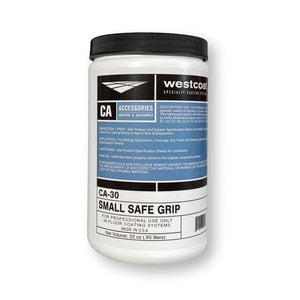 ---
About
Westcoat CA-30 Small Safe Grip is a lightweight product that will remain suspended in most coatings and leaves a less aggressive texture than Westcoat CA-31 Large Safe Grip.
Instructions
Mixing
Mix 1 quart (32 ounces by volume) per 5 gallons of SC-10, SC-42, SC-70 or SC-71.
Mix 1 quart (32 ounces by volume) per 3 gallons of EC-11, EC-12, EC-32, EC-34, EC-38, EC-95G, ED-95F, EC-101, EC-102, or SC-65.
This will leave a consistent texture that is still fairly easy to clean.
The actual skid resistance will be greatly affected by the existing texture of the surface you are covering and the thickenss of the coating applied.
Do not exceed these amounts without consulting Westcoat.
Clean Up
Uncured material can be removed with an environmentally-safe solvent.
If cured, material can only be removed mechanically.
Limitations
This product is designed for professional use only.
Do not apply in temperatures below 55°F or above 95°F
Not intended for use with any Non-Westcoat brands.
Not designed to be broadcast.
It is strongly suggested that all limitations and attributes are disclosed to customer and end user.
Westcoat takes nor responsibility for slippery surfaces. The applicator and the customer determine the texture. If additional skid resistance is required, please contact Westcoat for recommendations.
Do not use more CA-30 than recommended.
Do not allow any Westcoat products to freeze.
See More