Corner + Seam Shaping Tools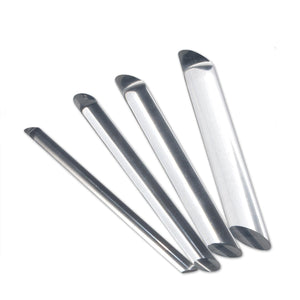 ---
About
Create precisely rolled edges on all of your concrete countertops with these hand-crafted corner and seam shaping tools. The old "Lick your finger and drag it through the caulk" technique might be good enough for a sidewalk but not a countertop inches from your customers discriminating eye.
Use the larger rods to form silicone into graceful eased edges and the smaller rods for working in fine detail around artwork and embeds.
Features:
Each set includes four commonly used radii 1/4 inch, 3/8 inch, 1/2 inch, and 3/4 inch
Expertly hand-crafted and polished acrylic rod
Made in the USA
Instructions
Step 1
Apply a thin bead of 100% silicone Sealant at all intersections of forming materials.
The sealant will begin to quickly dry so only apply as much sealant as you can shape in 3-5 minutes.
Step 2
Place the point of the rod 1/4" from the corner and pull the seam shaping tool across the sealant (away from the corner) with the bevelled edge facing away from the sealant.
Work quickly and clean off excess silicone after each pull.
Step 3
Use a small razor blade to remove the excess sealant from the form as shown.
Step 4
This is what a properly sealed form should look like.
Denatured alcohol can be used to remove any remaining silicone residue after the sealant has fully dried.
Step 5
It takes practice to master this technique.
See More