CHENG Food-Safe Concrete Countertop Wax
Sealed and waxed concrete kitchen countertop by Cheng Design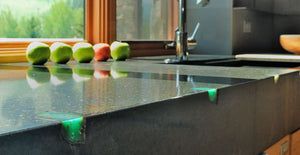 ---
About
This non-toxic and incredibly durable carnauba wax is food-safe and formulated without harsh solvents. The water-based formula improves the stain-resistance and abrasion resistance of any concrete countertop sealer. Use Cheng Concrete Countertop Wax on a regular basis to prevent premature concrete sealer wear while providing a renewable shine whenever your countertop needs a little "pick-me-up." For best results, use once a month.
Calculator
How many square feet is your countertop project?
Tip: multiply the length (in feet) by the width (in feet)
| Coats | Jars |
| --- | --- |
| 1 coat | |
| 2 coats | |
Instructions
Begin with a sponge-filled terry cloth wax applicator commonly sold in auto parts stores. Dampen the applicator with clean water and wring out completely.
Use the damp applicator to apply the wax in circular patterns. After applying wax and before it dries, immediately remove the excess wax from the concrete surface with a textured cloth (terrycloth towel).
Using CHENG Buffing Pad buff to desired sheen. If needed, use a 0000# steel wool pad to lightly buff out streaking or unevenness in the wax finish.
Full instructions
See More