Rhomba Bench Project How-to Drawings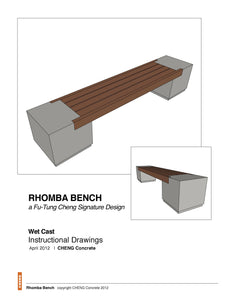 ---
About
Fu-Tung conceptualized the Rhomba Bench to meet three key objectives for the user:
Make the project approachable to build, utilizing one form to make two concrete pieces while creating a distinctive, interlocking design;
Create a functional piece of furniture that balances the polished surface of concrete and the warm look and feel of wood;
Be a semi-permanent installation allowing the user to move the bench at any time to any location including elevated environments.
Create a statement feature for your home, commercial space, or maybe a rooftop environment—the RHOMBA Bench is beautiful, functional, and mobile. Designed by Fu-Tung Cheng, this versatile bench balances the polished surface of concrete and the warm look of wood to deliver a beautifully simple aesthetic for your outdoor living space. If you're careful when de-molding, you should be able to reuse the form for many castings.
Watch a video featuring Fu-Tung discuss the design of the RHOMBA bench and all the related custom options in the video tab. This video mentions the CHENG D-FRC product, although this version of RHOMBA Bench How-to Drawings was reconfigured to allow you to build a form suitable for a wetcast process utiliing the CHENG Outdoor Pro-Formula mix product. With the RHOMBA Bench design and drawings, you can make your bench in any color with any species of wood you desire and you can pair it with a Quadra Fire Cube, also a Fu-Tung Cheng Signature Design, to create a focal point for your outdoor living space.
Specs
"Copyright 2015. All Rights Reserved. These drawings are for personal, non-commercial use only. Selling items made from these drawings is prohibited."