BASF MasterGlenium 7500 Full-range Water-reducing Admixture - 3 Gallon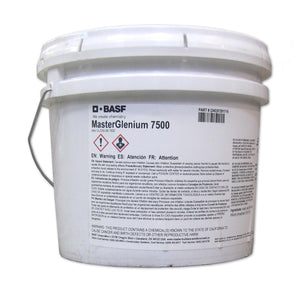 ---
About
MasterGlenium 7500 Admixture combines state-of-the-art molecular engineering with a precise understanding of regional cements to provide specific and exceptional value to all phases of the concrete construction process.
Features
Convenient 3 gallon ackaging
Dosage flexibility for normal, mid-range and high-range applications
Excellent early strength development
Controls setting characteristics
Optimizes slump retention/setting relationship
Consistent air entrainment
Specs
Meets ASTM C 494/C 494M compliance requirements for Type A and Type F admixtures
Instructions
Dosage
GLENIUM 7500 admixture has a recommended dosage range of 2-15 fl oz/cwt (130-975 mL/100 kg) of cementitious materials.
For most applications, dosages in the range of 5-8 fl oz/cwt (325-520 mL/100 kg) will provide excellent performance.
For high performance and Rheodynamic Self-Consolidating Concrete mixtures, dosages of up to 12 fl oz/cwt (780 mL/100 kg) of cementitious materials can be utilized.
Because of variations in concrete materials, jobsite conditions and/or applications, dosages outside of the recommended range may be required.
Mixing
GLENIUM 7500 admixture can be added with the initial batch water or as a delayed addition.
However, optimum water reduction is generally obtained with a delayed addition.
Storage Temperature
MasterGlenium 7500 admixture must be stored at temperatures above 40°F (5°C).
If MasterGlenium 7500 admixture freezes, thaw and reconstitute by mechanical agitation.
Shelf Life
MasterGlenium 7500 admixture has a minimum shelf life of 9 months.
Depending on storage conditions, the shelf life may be greater than stated.
Please contact your local sales representative regarding suitability for use and dosage recommendations if the shelf life of MasterGlenium 7500 admixture has been exceded.
See More