CX Pro-Formula Pour-In-Place Concrete Countertop Mix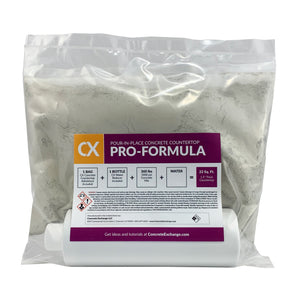 ---
About
NEW formulation now includes Basalt Volcanic Rock Fibers for improved secondary reinforcement and increased strength!
CX Pour-In-Place Concrete Countertop Pro-Formula delivers all the performance you demand when casting interior and exterior concrete in-place. Its extended set-time allows you to spend more time working on the concrete surface to achieve a smooth hard-troweled finish.
Simply add CX Pour-In-Place Pro-Formula to 360 lbs of 5,000 psi concrete mix and create a superior, more durable concrete.
Calculator
How many square feet is your countertop project?
Tip: multiply the length (in feet) by the width (in feet)
| Thickness | Packages |
| --- | --- |
| 1-1/4" | |
| 1-1/2" | |
| 1-3/4" | |
| 2" | |
| 2-1/4" | |
| 2-1/2" | |
| 2-3/4" | |
| 3" | |
Specs
Yields 3 cubic feet of concrete
Blend with 360 lbs of 5,000 PSI Concrete Mix
Instructions

Each bag of CX Pour-In-Place Concrete Countertop Pro-Formula requires 360lb of 5,000 PSI concrete mix and water to yield 3 cubic feet of concrete (see Fig. 1 above)

All three forms can be filled with one batch of CX Pour-In-Place Pro-Formula,
Mix Calculation. Determine the amount of material you'll need by calculating the volume of your form, or mold, in cubic feet (see Fig. 2 above).
Multiply: Length x Width x Depth of your form in inches
Convert to Cubic Feet: Divide the total from step 1 above by 1,728 (the volume of one cubic foot) to calculate the total volume of your form in cubic feet.
Allow extra for waste: Multipy the total from step 2 by 1.1 to allow 10% additional materials and avoid needing to scrape everylast grain of sand from your mixer. (any uneeded concrete can be poured into a small mold for test polishing, staining, or sealing)
Water Calculation. You'll need about 3 to 4 1⁄2 gallons of clean water to achieve a workable mix for each batch of CX Pour-In-Place Pro-Formula.
Use CX Pro-Formula as directed. Using the Pro-Formula in proportions differing from instructions may result in less than ideal results.
Casting Environment: Ideal temperature 75ºF, Acceptable temperatures 60ºF-90ºF, Humidity greater than 25%

MIXING STEP 1: Be Prepared
Depending on the size of your project, it's ideal to have two or three people assisting with the pour. Two people can work the concrete into the form while the third cleans the mixer and tools to keep things moving. Once you've started mixing you want to keep moving without interruption,so it's important to plan ahead!
Use a 6 cubic foot drum style concrete mixer when blending the entire 360 lbs of concrete mix.
Keep your vibrator, screed board, and other tools close at hand.
MIXING STEP 2: Dry Mixing
Wear a dust mask and place the bagged concrete mix into the mixer followed by the CX Concrete Countertop Admixture (the dry component found in your CX Pour-In-Place Pro-Formula package) (See Fig. 3).
Cover the mouth of the mixer with a plastic tarp and a bungee cord or rope to prevent the dry materials from becoming airborne (See Fig. 4).
Run the mixer for 3 minutes to tumble and blend the dry materials.
Stop the mixer. Check the dry materials to ensure there are NO CLUMPS of unmixed materials. If the fibers or other materials are clumped, break them up with your gloved hands.
The Basalt Volcanic Rock Fibers will filamentize further once the mix water is added, making them practically invisible in the mix.
MIXING STEP 3: Creating a Workable Mix
Stir the CX Water Reducer (the liquid component found in your CX Pour-In-Place Pro-Formula package) to 3 gallons of clean water.
Start the mixer again and SLOWLY add the 3 gallons of water/CX Water Reducer mixture.
Run the mixer for about 5 minutes and check the consistency of the mix. A "WorkableMix" looks and feels like thick, runny oatmeal. If necessary, slowly add more water one quart at a time. After each additional quart, let the mixer run for about 2 minutes before adding additional quarts.
See More