CHENG Food-Safe Concrete Countertop Sealer
Sealed concrete kitchen countertop and endwall by Cheolsa Kim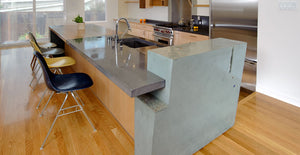 ---
About
It's easy to apply and comes in two convenient sizes: 500 mL and 4 L. The 500 mL volume will cover approximately 30 square feet of surface area. For best results apply CHENG Concrete Wax to your sealed concrete surfaces to provide maximum performance and protect the countertop sealer from scuffs and scratches.CHENG Sealer protects your concrete surface while CHENG Wax protects the layer of CHENG Sealer.
Specs
Coverage: 240-400 square feet per gallon
Packaging: 500mL and 1 gallon
Material: Acrylic
Instructions
There are many methods being used to apply the CHENG Concrete Countertop Sealer. The following method is used in our shop to consistently produce excellent results, while being relatively easy to master. We recommend practicing on a sample piece of concrete before attempting to seal an entire concrete project.
Environmental conditions:
Work in an area with relatively still air. Breezy or drafty environments can cause the sealer to prematurely dry, creating unwanted steaks.
Do not attempt to seal under radiant heat or sunlight. Any source of radiant heat will cause the sealer to prematurely dry, creating unwanted streaks.
Supplies you'll need:
2 clean jersey rags. We prefer using recycled tee shirts.
Protective clothing and rubber gloves.
A bucket or bowl that will hold roughly 1/2 gallon.
Cool, clean water. If you're working in a hot environment, put a handful of ice in a plastic bag and drop it in your water to keep it cool. Warm water will evaporate quickly, and cause the sealer to prematurely dry.
500ml of CHENG Concrete Sealer for every 30 square feet of concrete surface sealed.
Sealer Application:
THE RINSE: Gently wash the entire concrete surface with a clean rag and fresh water. DO NOT "scrub" the concrete. Small particles of grit trapped in the fabric can scratch the concrete's polished surface. Make sure that all dust and dirt are rinsed off the countertop surface before proceeding to the next step.
THE WATER SOAK: Use a fresh clean rag and saturate the entire concrete surface with clean water allowing water to penetrate for 2 minutes while keeping the entire surface saturated. TIP: Do not use the same rag you used to wash the concrete surface in Step 1 as it might have particles of dirt or grit trapped in the fabric.
THE WASH: In a 1/2 gallon capacity bucket or bowl, mix equal parts of clean water and sealer. For example: mix 1 cup of sealer with 1 cup of water. This will create a 50% dilution, which we refer to as the "wash."
THE WASH SOAK: Using the same rag as Step 2, saturate the countertop with this wash, while keeping the wash solution continuously moving, ensuring that the entire surface stays wet for 5 minutes. DO NOT allow any area of the surface to dry out.
THE FINAL WASH: For the final wash, add additional sealer and water to the remaining wash at 3:1 ratio. For example add 3/4 cup of sealer and 1/4 cup water to remaining 50/50 wash.
THE FINAL WASH SOAK: Saturate the concrete surface with the "final wash," keeping the wash moving for 5 minutes adding additional wash as needed to ensure the surface of the concrete does not dry. The concrete surface should appear as if skim milk has been spilled over the entire surface for the full 5 minutes.
THE WIPEDOWN: Tightly wring out the rag you have been using in Steps 2-6 and wipe up excess puddling or pooling wash. TIP: Wipe surface in long straight strokes leaving a paper thin (tissue paper thin) layer of sealer remaining. Do not wipe the surface dry, allow the thin layer of remaining sealer to slowly soak into the concrete.
THE REPEAT WASH: Apply a second coat (starting again from Step 6) 30 minutes after you have completed the "final wash." We recommend up to 6 applications of 75% sealer/water. Allow the Final Repeat Wash to dry for 24 hours.
IMPORTANT! The Water Drop Test. Visualize your concrete surface as a sponge you are trying to fill with sealer. If water will absorb into the concrete (as indicated by the water drop test), it means you need more CHENG Sealer. Since no two pieces of concrete are the same, some concrete will require additional sealer. Depending on how porous your concrete surface is, you may need up to 6 sealer washes before your surface is completely sealed. After THE REPEAT WASH has dried for 24 hours, place a drop of water on several areas of the sealed surface and allow it to sit for 5 minutes. Wipe up the water. If the concrete has darkened beneath the water drop, the concrete isn't fully sealed: repeat Steps 3-8.
Full instructions
See More