Concrete Coatings Microtek - 40 lb Bag Smooth-Grade Gray Concrete Overlay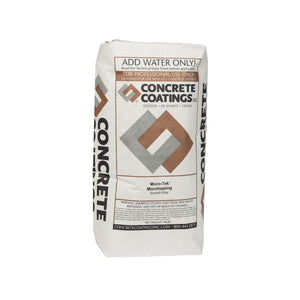 ---
About
Micro-Tek Micro-Topping is a single-component polymerized thin-section decorative cementitious coating system commonly used on countertops or floors where an acid stain is desired, when the concrete itself is too abused for a pristine surface. Tight, flat surfaces are easily produced in a fraction of the time it may take with standard grouts.
Calculator
How many square feet is your project?
*Note: Coverage rate varies based on substrate and application techniques
| Coats | 40 lb bags |
| --- | --- |
| 1 coat | |
| 2 coats | |
| 3 coats | |
Specs
Coverage: 200-400 square feet
Instructions
Surface Prep
Surface must be clean and reasonably dry.
All crack repair should have taken place prior to pressure washing, scarifying, grinding, or shot blasting.
Cut new control joints as required to prevent cracks transferring through the overlay.
Pressure-wash all dust and latents from the surface to ensure a clean surface.
If high temperatures are imminent, the substrate may be misted with water immediately before the installation to cool the concrete.
Mixing
Each bag of Micro-Tek Micro-Topping powder requires 8-10 quarts of water.
Do not add additional polymers!
Pour 3/4 of the 8-10 quarts of water into an empty 5-gallon bucket.
Add the entire contents of the powder and blend briefly with a drill-powered mixer to wet out the material.
Wait 5-10 minutes, and then add the remaining water and mix at medium speed until the material is homogenous and free of all lumps.
A mix similar to the consistency of buttermilk is ideal.
Application
Micro-Tek SG MUST be applied over Micro-Tek RG or G-100 Pro Series Grout.
*Refer to appropriate TDS for installation instructions for these products.
Pour 1/4 to 1/3 of the mix onto the surface.
At this point, the material may be applied to large areas using a squeegee to spread the material and finished by hand or "funny trowel," or simply spread and troweled by hand. In either case, a thin coating is recommended.
Material builds over 1/8" are discouraged.
Let Micro-Tek Micro-Topping dry completely and sand the surface between layers, if desired.
Remove all dust and debris.
For a smooth, power-troweled look, trowel the material near to final thickness and then flat trowel again after a few minutes much like you would regular concrete.
Sweat and broom finishes can be accomplished in much the same manner.
Concrete Coatings, Inc. Micro-Tek SG Micro-Topping should be applied prior to staining, sealing, and waxing.
Staining
If the surface is to be acid stained, surface MUST be sanded, and applying a light mist of water is recommended immediately before stain application using a plastic pump sprayer.
Sealing
Although Micro-Tek Micro-Toppings are very durable, they must be sealed to maintain their integrity.
Allow the overlay to cure for a minimum of 24 hours and protect the surface with SuperSeal 2000, GemKote 400, GemKote 350, or GemKote 100.
Maintenance
The sealed surface should be inspected periodically for areas of thin or traffic-worn sealer.
Worn areas may be resealed as needed.
A thorough cleaning is recommended prior to resealing to ensure debris or contaminants are not embedded in the subsequent sealer coat(s).
See More