Surecrete Eco-Stain - 32 oz (Quart)
Please Note: colors on screen vary from device to device. It is important to test the color(s) chosen on your own concrete surface. 4 oz test samples of all Eco Stain colors can be purchased here.
Learn how a weekend warrior restored this 10 year old patio with Surecrete Eco-Stain and HS200-LV concrete sealer here.
Use a variety of stains in different areas to create interesting features.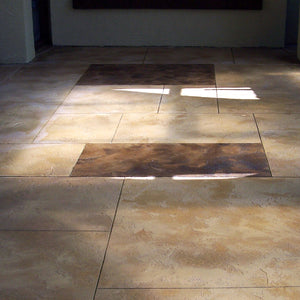 Add more Eco Stain to certain ares while applying less in others to create movement and depth.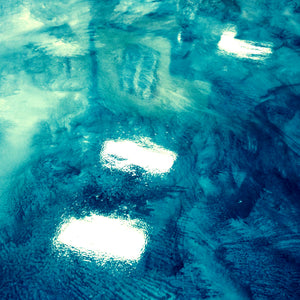 Eco Stain can pool, providing richer, more saturated color in low or textured areas.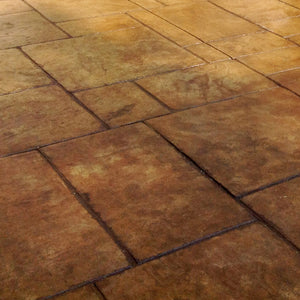 Layer different colors of Eco Stain to create beautiful effects. Then, add a glossy sealer to make it come to life!
Tape off sections of your concrete and create a pattern with different amounts of Eco Stain applied to each section of the grid.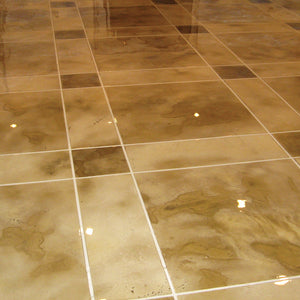 ---
About
Eco-Stain™ is an excellent choice for coloring concrete floors and walls including overlays and cast concrete products. This semi-transparent water-based concrete stain can easily be applied by sprayer, brush, roller, or even a sponge. SureCrete Eco-Stain is a liquid-form concrete water-based stain that puts you head and shoulders above your competition. Eco-Stain uses an eco-friendly; water-based formula that contains zero VOCs and has no pungent chemical aroma.
Eco-Stan is a liquid concentrate available in 32oz and 1 gallon bottles. Offered in 29 UV stable concrete stain colors, Eco-Stain™ can be diluted up to 10:1 to create virtually any stain color desired.
Eco-Stain contains no harmful chemicals acids making it an exciting alternative to traditional reactive acid stains. Since no chemical reaction takes place, there is no extended waiting time for color to reach full development. What you see is what you get.
Calculator
How many square feet is your project?
*Notice: Calculations provided below are based on 200 square foot average coverage for each quart (32 oz) after dilution.
| Coat | 32 oz bottles |
| --- | --- |
| 1 coat | |
Instructions


Surface Preparation
The principles for surface preparation for Eco-Stain are aligned with other coloring agents for cement-based products; the substrate must be:
Clean: The surface must be free of dust, dirt, oil, grease, paints, glues, sealers, curing agents, stamp tool releases, efflorescence, chemical contaminants, rust, algae, mildew and other foreign matter that may prevent proper adhesion. Customarily Super Concrete Renovator (SCR) is appropriate for cleaning. Refer to the TDS for SCR. Some cleaning may require other measures that should be evaluated (e.g. grinding, shot blasting).
Cured: Although Eco-Stain may color cement based products that are not cured, final color may not be realized until 14 – 28 days.
Sound: No system should be placed on concrete or overlays that are flaking or spalling.
Profiled: Not normally required, as SCR is utilized in cleaning.
Note: Eco-Prime is required on substrates that are excessively porous, poorly finished, broomed, or very old and absorbent. Eco-Stain will penetrate these unprimed surfaces so deeply that little or No color will be visible.
Application
Mixing and handling
Eco-Stain's specialized pigments will settle. Always shake container to mix thoroughly.
Dilute with water to any desired strength, usually between 3 parts water to 1 part Eco-Stain, or to approximately 4 parts water to 1 part Eco-Stain (4:1).
Mask all areas requiring protection. Be certain to mask to an ample height, especially if spraying.
Accenting / Coloring
Due to Eco-Stain's extreme versatility, there are many methods of application, all of which can be combined and altered to suit your needs. The applicator has enormous latitude in selecting methods, particularly since Eco-Stain is non-hazardous.
Common methods include:
Spraying with a pump-up sprayer - Utilize a cone tip and keep sprayer wand in a circular motion to avoid "tracking."
Brushing or brooming – While Eco-Stain is still wet, brush surface in a random fashion to prevent patterned streaking.
Ragging, sponging, mopping – Usually employed for layering an additional color or spot accenting.
Painter's airless sprayer – Especially useful in covering large areas.
HVLP or gravity cup sprayer – Precisely places material, utilized with XS products and accenting smaller areas.
Applying multiple coats is optional. Supplementary colors may be combined at desired rates.
Slip Resistance
Eco-Stain alone does not affect slip resistance, but the sealer selected to finish the project will influence this matter: Two recognized US agencies have issued directives on minimum coefficient of friction, OSHA (Occupational Safety and Health Administration) and Department of Justice through the ADA (Americans with Disabilities Act). ADA is the more stringent of the two. ADA directs that accessible walkways have a minimum coefficient of friction of 0.6. Ramps have been directed to be 0.8. The applicator assumes the responsibility to meet these standards. Especially exterior surfaces or surfaces that may become wet, oily, or greasy require attention. Refer to SureGrip Additive TDS and its accompanying coefficient of friction table.
Suitability Sample
Always prepare an adequate number of on-site test areas on the intended substrate to establish aesthetic suitability for products' intended use.
Clean-up
Eco-Stain can be cleaned up with water.
Full instructions
See More