Chemlink NovaLink SL Self-Leveling Pool Deck Joint Sealant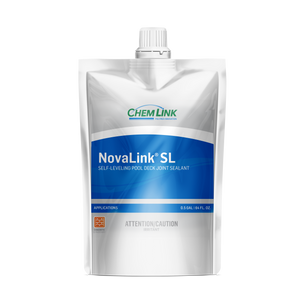 ---
About
NovaLink SL Pool Deck Sealant levels to a smooth level finish and bonds well to masonry, wood, aluminum, steel, slate, natural stone, clay tile, asphalt, and most other construction materials. It will not outgas or bubble when applied to damp concrete. NovaLink SL Pool Deck Sealant is isocyanate free, paintable and validated for ± 25% joint movement.
Specs
Packaging: 68 oz Pouch w/ Dispensing Knozzle
30 minute skin over
paintable within 24 hrs
25% joint movement
no outgassing or foaming on wet surfaces
Instructions
Bonding surfaces should be clean, dry and free from all contamination that may inhibit the sealant's performance. Isopropyl alcohol is an effective cleaner for surface preparation. Abraded or irregular surfaces are acceptable bonding surfaces but must be clean and sound Install all joint applications per ASTM and SWRI recommendations and guidelines. Please contact customer service for application guidelines for temperatures below 32 degrees F (0 degrees C). Maintain sealant at room temperature before application to ensure adequate tooling and adhesion. This product sets rapidly upon exposure to moisture.
See More