Westcoat EC-75 Flexible Epoxy Gel Patch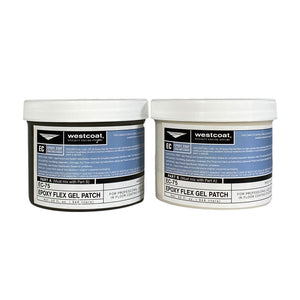 ---
About
EC-75 Epoxy Flex Gel Patch is a high viscosity, two-component, flexible, 100% solids epoxy patching compound. It provides high-build, maximum toughness, excellent chemical resistance and flexibility in a quick-drying gel form.
Specs
Packaging: 1/2-gallon, 2-gallon
Coverage: 1/2-gallon yields approximately 150 feet of crack repair 1/4" wide x 1/4" deep
VOC content: 0 gm/l
Color: Black and Light Gray - Mixed to Gray
Mix ratio: 1:1 by volume
Instructions
Mixing
In a clean and dry bucket thoroughly mix 1 part A and 1 part B, by volume of EC-75. Combine using a mechanical mixer at low rpm or stir stick. Mix slowly for at least 3-5 minutes or until completely combined. Only prepare the amount you can use in 20 minutes at 70°F.
Adding Aggregate
Silica sand or other aggregates may be added to enhance workability and increase the yield of the mix. Silica sand will effect the texture and feathering ability of the patching compound. Depending on the size and amount of aggregate you add, you will also increase the tensile strength, compressive strength and hardness of the product, while decreasing the elongation and flexibility.
Applying Product
A trowel or putty knife is the best way to apply the epoxy into the crack or void you are attempting to fill. If the area will be coated with a thin-film coating, you may wish to slightly overfill the area then sand it flush the next day to match the texture of the existing surface. Silica sand may be broadcast into the epoxy to add texture and act as a binder for subsequent coats of material.
Dry Time
You may reapply additional EC-75 as soon as the product has hardened, usually 2-4 hours. Light foot traffic may be permitted in 12 hours, normal foot traffic in 24 hours and light vehicle traffic in 48 hours. Heavy vehicle traffic should not be permitted for 72 hours.
See More