Concrete Coatings SuperSeal Plus Water-Based Acrylic Sealer - Gloss - 1 Gallon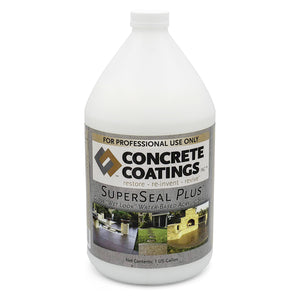 ---
About
Where Should Concrete Coatings SuperSeal Plus Be Used?
Homes
Patio
Offices
Restaurants
Horizontal and vertical
Interior and exterior
Freshly placed and finished concrete
Aged concrete
SuperSeal™ Plus may be applied to many porous surfaces including, concrete, stone, brick, manufactured stone, overlays and many types of tile. Ideal for exposed aggregate and colored concrete surfaces, paving block, patio stone, driveways and garage floors.
We recommend you apply sealer to a small section of the substrate to ensure proper adhesion.
Important Things to Remember
Apply in temperatures above 40°F. Colder weather applications may be made under prescribed conditions and procedures specified by Concrete Coatings Products.
Do not over-apply as this may result in undesirable results in appearance.
Not for use on asphalt, surfaces subject to hydrostatic water pressure, or as a waterproofer on below grade surfaces.
Sprayers must be equipped with neoprene hose, washers and gaskets as rubber or other materials will disintegrate from the solvent.
The material will not freeze and may be stored outside in cold weather; however it must be allowed to warm to approximately 50°F before using.
Calculator
How many square feet is your project?
NOTE: Coverages shown are based on an average coverage of 250 square feet per gallon per coat.
Specs
Coverage: 100-400 sq. ft. /Gal (Many factors including surface texture, porosity and weather conditions will determine actual coverage rates.)
Appearance (cured): glossy wet look
Set to Touch: 1 hour
Open to Traffic: 2 hours
Instructions
Existing Concrete Preparation
Surfaces must be clean, dry and free of form oils, grease, dust, frost and curing compounds (particularly wax based).
Large areas may be blown dust free by compressed air, washed and let dry.
Surface water must be allowed to completely dissipate before applying.
Concrete Coatings SuperSeal Plus is ready for use and requires no mixing or dilution.
Once the surface has been sufficiently prepared, a small mockup area should be performed in an inconspicuous location and at the proper application rate to test the compatibility of the coating with the substrate/concrete.
Allow the coating to dry and cure, then inspect for proper film formation, gloss, adhesion and to confirm that the film is free from whitening or other defects.
New Concrete Preparation
New concrete should be cured with an acrylic base curing compound and allowed to cure for at least 28 days. This eliminates the possibility of moisture entrapment between the concrete and film which could cause an unsightly white haze to develop on the surface.
Follow "Existing Concrete Preparation" above.
Application
Apply using a low pressure (30-40 lbs.) sprayer, roller or long nap applicator. Work the compound into the concrete avoiding accumulations, puddling, runs or sags.
Do not over-apply as this may result in undesirable results in appearance.
Clean Up
If using a low-pressure sprayer, use a xylene cleaner and pump through spray equipment to remove residue of materials which can clog the hose and wand assembly.
See More