CX Concrete Countertop Admixture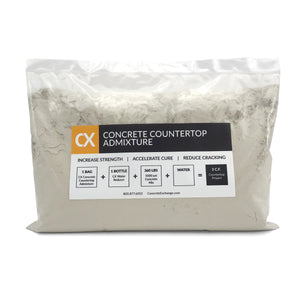 ---
About
NeoMix products are now CX products!
 Same great products that increase strength and reduce cracking, all that's changed is the name.
CX Concrete Countertop Admixture is ideal for pour-in-place concrete countertops and other troweled concrete applications.
This proprietary formula will transform concrete from your local home improvement center into highly-durable, beautiful, custom concrete countertops. The micro-reinforcement fibers and expertly blended ingredients make troweling a breeze, decreases set time, and reduces the risk of cracking.
CX Concrete Countertop Admixture is intended for use with CX Water Reducer.
Add color to any project with one of our eighteen custom CHENG SmartColors. If you are precasting a project, we recommend the
Instructions
Step 1
Place 360 lbs. of 5000 psi. concrete mix in a 9 cubic foot concrete mixer.
Add 1 package of CX Concrete Countertop Admixture to the mixer.
Add CHENG SmartColor to the mixer.
Cover the opening of the mixer, turn on, and blend for 5 minutes or until well mixed.
Step 2
Measure out 4 gallons of water.
Split into two equal parts.
Mix Water Reducer into 2 gallons of water.
Step 3
With the mixer running, add the 2 gallons of water and Water Reducer to the mix.
Slow add the remaining water until desired mix consistency is achieved. (Additional water may be required)
Run the mixer for an additional 8-10 minutes to insure thorough blending.
Step 4
After mixing for a few minutes, scrape down the sides of the mixer to ensure there's no unmixed concrete.
Continue mixing until the concrete has a uniform consistency.
Pour it in a wheelbarrow and begin filling your form.
See More