Countertop Stain Remover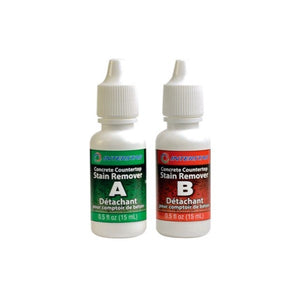 ---
About
Interstar's Concrete Countertop Stain Remover is specially formulated to penetrate and remove food stains from concrete surfaces. Its targeted action lifts tough stains without affecting the area around it. It is ideal for non-oil-based food stains such as: tomato sauce, ketchup, hot sauce, mustard, red wine, soy sauce, etc. and can be used on any concrete surface.
Features
Chlorine-free
Safe to Use on Colored Concrete
Environmentally Friendly
Non-Toxic
No VOCs
Rinses away with CHENG Surface Prep
No Soapy Residue
Instructions
Place equal amounts of Part A and Part B onto the stain (about 2-3 drops of each, or enough to fully cover the stain). Cover the area with a small bowl or cup to prevent evaporation.
Let stand 1-2 hours or up to 4 hours for stubborn stains. Never leave Interstar's Countertop Stain Remover on a concrete surface for longer than 4 hours.
Wipe the stain away with a clean rag, then rinse with clean water.
If the stain is not completely gone, repeat process until it is no longer visible.
See More