Westcoat EC-32 High Build Clear Epoxy 1.5 Gallon Kit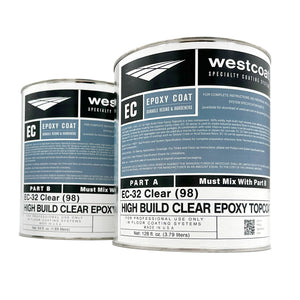 ---
About
Westcoat EC-32 High Build Clear Epoxy Topcoat is a two-component, 100% solids, high-build, high viscosity, cyclo-aliphatic, chemical resistant epoxy. This highly versatile epoxy coating has superior clarity. It can be applied directly to the concrete without a special primer.
Specs
Coverages:

As a primer: ~300-500 ft2 / US gal.
As a coating: ~100-300 ft2 / US gal.
As a sealer: ~300-500 ft2 / US gal.
As a mortar: ~ 30-60 ft2 / US gal.

VOC Content: 0 g/l
Mix ratio: 2:1 (by volume)
Instructions
Inspection
The surface must be structurally sound, clean, dry and free of grease, paint, oil, dust, curing agents, laitance or any foreign material that will prevent proper adhesion.
The concrete should be at least 2,500 PSI and porous or rough enough to allow the product to soak in.
A minimum of 28 days curing time is required on all concrete.
Prior to starting work, test existing concrete slab for efflorescence, moisture, and hydrostatic pressure.
Preparation
Pre-cut and clean all cracks and joints with a concrete diamond blade to at least 1/4 x 1/4 inch.
Prepare concrete to a profile equal to CSP 3-4 as specified by ICRI.
Methods may vary according to the condition and hardness of the concrete.
Other factors include the forecasted use of the surface and the environment in which it is to be installed.
When preparing the surface use caution when shot blasting, scarifying too aggressively, leaving grind marks, or grinding too smooth.
Moisture
All concrete should be tested for moisture before applying a seamless coating.
If moisture emissions exceed 5 lbs/1000 square feet/24 hours (ASTM F1869) or if the relative humidity (RH) exceeds 75% (ASTM F2170), contact the manufacturer before application.
Mixing
Premix each component separately.
In a clean bucket, mix 2 parts A with 1 part B (by volume) of EC-32.
Mix thoroughly with a low speed (400-600 rpm) drill motor for 3-4 minutes.
Make sure to scrape the sides and bottom of the container during mixing.
After mixing is completed, remove material from container within 5 minutes, as epoxy will begin to generate heat.
Spread immediately onto the floor. As product is spread out, you will have longer working time (10-15 minutes at 70°F).
Thinning
EC-32 can be thinned with up to 100% (equal parts) CA-23 or acetone, by volume.
If thinned, it must be applied thinly enough to allow solvent to escape (minimum of 300 square feet per gallon).
As a primer: EC-32 may be thinned with up to 100% CA-23 or acetone.
As a coating: EC-32 may be thinned with 10-20% CA-23 or acetone.
As a mortar: thinning is not recommended.
Coverage
Coverage will vary depending on the condition of surface and desired thickness.
As a coating: 100-300 square feet per gallon.
As a sealer: 300-500 square feet per gallon.
As a mortar: 30-60 square feet per gallon.
Applying product
As a primer:

Spray or squeegee and backroll thinned EC-32 onto the surface.
Primer coat should be applied evenly and worked into the surface to help seal and avoid pinholes.
When thinned, apply EC-32 at a maximum of 5 mils.
Do not allow material to puddle.

As a coating:

Apply EC-32 within 24 hours after the primer coat.
Immediately after mixing, spread a strip of material onto the surface along the edges where it will be "cut in" using a brush.
Pour the remaining material near the "cut in" area and spread evenly using a trowel or squeegee and back roll using a 1/4 inch nap, non-shedding roller.
A notched trowel or squeegee will help regulate the thickness and a porcupine roller will help to release trapped air and minimize bubbles.
Depending on the look, thickness, chemical, and abrasion resistant desired, 1 to 2 coats may be applied.

As a sealer:

EC-32 may be sprayed, brushed, or rolled.
If rolled, neatly cut-in all edges with a brush and roll the center using a 1/2 inch to 3/4 inch nap, good quality, roller cover.
Be sure to spread evenly in a "V" pattern rolling in both directions.
Roll product as thin as possible.
If spraying, use a pump type or airless sprayer after thinning and be sure to spray evenly.

For an epoxy mortar:

To create the mortar mix, combine mixed EC-32 with aggregate, at a rate of 50-100 pounds per gallon, depending on aggregate and desired psi.
Within 24 hours of primer, spread the prepared mortar mix evenly with a trowel.
Read Epoxy Mortar or Epoxy Mortar Quartz System Specification Sheet for details.
Dry time
You may re-coat as soon as the surface is dry to touch or in about 8-10 hours, but no later than 24 hours.
Light foot traffic may be permitted in 24 hours, heavy foot traffic in 48 hours and vehicle traffic in 3 days.
All times are based on average temperature of 70°F and 50% humidity.
Cooler temperatures will increase drying time.
Clean up
Uncured material should be removed with an environmentally-safe solvent.
Cured material should be removed mechanically.
Limitations
This product is designed for professional use only.
Be sure to measure and mix properly. Be aware of the pot life of mixed epoxy.
Do not apply when temperatures are below 50°F and 90°F. Hot or cold weather will affect dry times.
Epoxy must be cured for minimum of 24 hours before coming contact with water.
Skid resistant additives are available, such as CA-30 or CA-31.
For interior use only unless protected by a UV resistant coating.
Solvents may be required in cooler weather to lower viscosity and increase coverage of 100% solids.
Please check with local laws governing the use of solvents.
Do not allow Westcoat products to freeze.
See More