Foam-Lok™ Spray Adhesive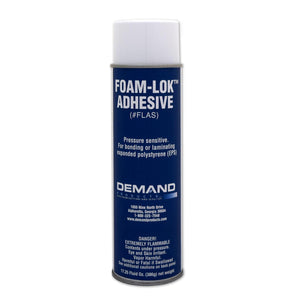 ---
About
Foam Lok spray foam adhesive permanently bonds Styrofoam and other polystyrene materials in 4 minutes or less. Use this foam spray adhesive to bond polystyrene (EPS & XPS) foam to other materials. Foam Lok Adhesive is both pressure sensitive and water resistant.
Excellent for Construction, Signs, Theater, Arts & Crafts, Packaging, Florists, and 100's more uses
* Chemicals are prohibited on all domestic and international air shipments.
Specs
Fast Setup Time of 4 Minutes
Covers Approximately 100 s.f. per Can
Instructions
Temperature of adhesive and material during fabrication should be 70° F/21° C for optimal results.
Thoroughly clean all surfaces to be bonded by removing all dust, dirt, oil, grease, powder, mold release agent or any other materials that would detract from the finished bond. If solvents are used to clean surfaces, allow adequate time for drying and wipe surface with a clean dry cloth before applying the adhesive.
Apply a uniform, generous coat of adhesive, approximately 3-5 mils. thick across 100% of surface to be bonded. Do not concentrate in one area or allow to puddle. Allow adhesive to tack (approximately 4 minutes) and bond together with maximum uniform pressure. It is important that maximum uniform pressure be applied over entire surface area to achieve maximum bonding strength.
Use FOAM-LOK™ in a well-ventilated area.
See More