CX Pro-Formula Concrete Countertop Slurry
Application
Work slurry into entire surface
Remove Extra
Polish or sand off extra slurry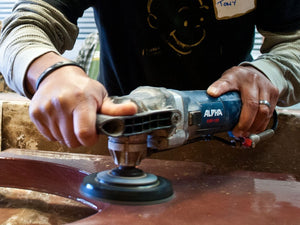 ---
About
CX Pro-Formula Concrete Countertop Slurry is formulated for quick and easy filling of any small holes, or voids, created when air bubbles become trapped in the concrete's surface. Get consistent, complimentary color results by using this slurry to patch air bubbles in countertops poured with CX Pro-Formula Concrete Countertop mixes.
This fast-acting slurry speeds up your project by allowing a final polish less than 24 hours after its application, cutting the wait time of standard slurry mixes in half!
Calculator
How many square feet is your project?
Tip: multiply the length (in feet) by the width (in feet)
| Coat (approx.) | Packages |
| --- | --- |
| 1 coat | |
Specs
Approx. 20 sq. ft. per box
1.8 lb (750 g) box
Mixes with water
Instructions
Surface Prep
Before mixing the slurry, polish the countertop to desired depth. A minimum 400-grit finished surface is recommended before slurrying.
Mixing
Place the CX Pro-Formula Concrete Countertop Slurry into a mixing container.
In a separate container, measure out 6 ounces (175 mL) of water.
Slowly add the water to the dry ingredients. add only enough water to create a mix with a toothpaste-like consistency. You will need approximately 6 ounces (175 mL) of water for a whole bag of CX Pro-Formula Concrete Countertop Slurry, depending on the color.
Application
Before applying slurry, thoroughly wet the concrete surface. Keep a spray bottle handy to wet concrete as you work.
Wearing a rubber or latex glove, place a handful of slurry on the countertop and work in circular motions, ensuring that all the small holes and voids are filled.
Using a plastic putty knife, scrape off all excess as you work.
Let the Acrylic Slurry cure for 1 day.
Lightly polish the surface starting with a minimum 400-grit polishing pad, concentrating on removing dried paste from surface.
If the Acrylic Slurry has shrunk back into the holes, repeat the process. two coats are usually sufficient to fill the holes.
Suitability Sample
Always prepare an adequate number of test samples for suitability for products' intended use.
Disposal
Contact your local government household hazardous waste coordinator for information on disposal of unused product.
Full instructions
See More