Schönox ZM Cement Based Self-Leveling Subfloor Underlayment - 55 lb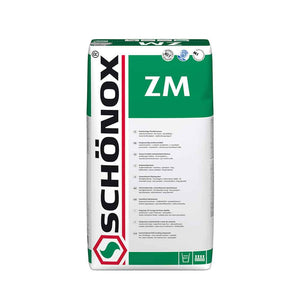 ---
About
Schönox ZM is suitable for filling, smoothing and leveling of cement-based or gypsum substrates prior to placement of floor coverings. Use ZM flexible coverings, wood floor with layer thickness above 1/8" (use elastic adhesives only), and under ceramic tiles. Schönox ZM is also ideal for filling, smoothing and leveling of unheated, cement based substrates under Schönox Moisture Mitigation Systems.
Calculator
How many square feet is your project?
| Pour depth | 55 lb bags |
| --- | --- |
| 1/8" | |
| 1/4" | |
| 3/8" | |
| 1/2" | |
| 3/4" | |
| 1" | |
Specs
Compressive Strength

2400 psi after 1 day
5800 psi after 28 days

Coverage

60-70 sq.ft. per unit at a thickness of 1/8″

Emicode

EC 1PLUS Regulated: very low emission

LEED

IEQ 4.3 Low-Emitting Materials-Flooring Systems, 1 point
MR 1.1 Building Reuse Maintain Existing Walls, Floors and Roof, up to 3 points
MR 1.2 Building Reuse Interior-Maintain Existing Interior Nonstructural Elements, 1 point

Pot Life:

Ready for Covering

After approx. 16 hours at 1/4" thickness and 48 hours 3/8" prior to installing carpet, vinyl, and linoleum

Shelf Life

Working Temperature

Not below 41°F floor temperature

Color

Packaging

Packsize

55lb. net weight in paper bags
Instructions
Applications
SCHÖNOX ZM is suitable for filling, smoothing, and leveling of substrates:
under flexible coverings
under ceramic tiles
under wood floor and coatings, layer thickness at least 1/8" (drying time at least 12 hours)
Substrates
SCHÖNOX ZM is suitable for filling, smoothing and leveling of:
concrete, cement substrates
old substrates such as ceramic tiles
old, water-resistant adhesive residues
gypsum substrates
OSB board, plywood (well screwed and/or bonded) prior to installing flexible coverings.
Priming
porous substrates such as:

concrete, cement substrates
prime with SCHÖNOX VD (2:3) or KH FIX

non porous, smooth, sound substrates such as:

old water-resistant adhesive residues, removed as far as possible
OSB board, plywood (well screwed down and/or bonded)
prime with SCHÖNOX SHP

gypsum substrates (sanded and vacuumed)

prime with SCHÖNOX KH FIX

prior to install SCHÖNOX ZM under coatings

prime with SCHÖNOX EPA to avoid pinholing or surface irregularities
Mixing Ratio
mix each 25 kg / 55 lb. bag with 6.5 liters / 6.8 quarts of water
we recommend to extend SCHÖNOX ZM with dry, clean aggregate (aggregate is added last) at a layer thickness above 1/2": Type and amount of aggregate used will affect product performance. As qualities of locally available aggregates vary, we recommend to perform tests prior to use on a larger scale.
Do not overwater! Foam while mixing, or settling of the sand aggregate while placing, indicates overwatering.
Recommended method of working
Using a clean mixing drum, add SCHÖNOX ZM to cold, clean water to form a homogeneous mixture. Mix thoroughly for approx. 3 minutes using a heavy-duty drill (min. 600 rpm) to obtain a lump free mix. Then pour the mix and spread using a smoothing trowel. Even surfaces are easily achieved using a gauge rake. In higher thicknesses using a spike roller is recommmended.
Contact to vertical structures should be avoided by putting in SCHÖNOX FOAMTAPE.
If a second layer of leveling compound is to be applied, prime the first layer with SCHÖNOX KH FIX after drying. The maximum layer thickness must not be exceeded in case of two layer applications. The second layer must not exceed the layer thickness of the first layer.
Protect curing SCHÖNOX ZM layers from high ambient temperatures, direct sunlight and drafts.
Clean tools in water immediately after use.
Instructions
Do not use in areas of constant water exposure (such as interior swimming pools).
Always install an adequate number of properly located test areas, to include the finish flooring, to determine the suitability of the product for its intended use. As floor coverings vary, always contact and rely upon the floor covering manufacturer for specific directions such as maximum allowable moisture content, adhesive selection, and intended end use of the product.
Low substrate temperatures and/or high mabient humidity require longer drying times.
Storage
Store in cool and dry conditions.
Shelf life: 12 months unopened.
End of shelf life does not generally indicate the end of the products suitability for the intended use. Always test in a small area.
Disposal
Empty packaging and dispose of in accordance with federal, state, and local waste disposal regulations.
Precautions
SCHÖNOX ZM contains Portland cement and sand aggregate. Avoid eye and skin contact. In case of contact, rinse immediately with plenty of water. In case of contact with eyes seek additional medical advice. Mix in a well ventilated area and avoid breathing powder or dust.
Never mix with cement or additives other than SCHÖNOX approved products. Observe the basic rules of concrete work. Do not install below 41°F surface temperature. Install quickly if substrate is warm.
See More