Surecrete SureBroom Microcement Concrete Overlay - 45 lb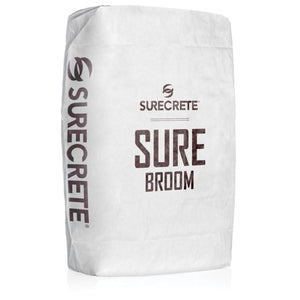 ---
About
SureBroom is a high strength concrete broom overlay mix, easy for both contractors and homeowners alike. At well over 6000 PSI when cured, this broomable overlay is perfect for heavy traffic areas such as driveways and sidewalks.
Calculator
How many square feet is your project?
*Note: Coverage rate varies based on substrate and application techniques.
| Coats | 50 lb bags |
| --- | --- |
| 1 coat | |
| 2 coats | |
| 3 coats | |
Specs
VOC Content: 0 g/L
Shelf Life: 1 year in original unopened container
Mixing Ratio: 3-1/2 – 6 quarts water per 45 lb bag
Base Color: Gray
Density: 132 lbs/cubic foot
Compressive Strength ASTM C-109: 6,128 PSI @ 28 days
Flexural Strength ASTM C-78: 1,575 PSI @ 28 days
Tensile Strength ASTM C-190: 910 PSI @ 28 days
Abrasion Resistance ASTM C-944: 1 day – 1 gram lost, seven days- 1 gram lost
Shear Bond ASTM C-882: 1,232 PSI @ 7 days, 1,695 PSI @ 28 days
Instructions
Any surface receiving a cement-based coating must be clean, cured, sound and profiled.
Make sure that temperatures will remain between 50 and 90 degrees Fahrenheit and that there will be no precipitation in the applied areas for a 48 hour period following application.
Add 3-1/2 – 6 quarts water for every 45 lb bag to a 5 gal bucket and mix in any integral color.
Slowly introduce SureBroom while continuously mixing and mix for a minimum of 1 minute once all product has been emptied into the container. Scrape the sides of the bucket to make sure there are no "dry pockets" that didn't get mixed properly.
Mist the surface of the concrete with water ahead of any areas about to receive SureBroom.
SureBroom concrete broom overlay can be applied by trowel, squeegee or boom depending upon desired texture.
If you need a second coat of SureBroom concrete broom overlay, simply wait until the surface is properly cured – approx 2-6 hours. A second coat can be applied same as the first coat. Make sure to scrape away excess material from first coat before applying the finish.
Once the concrete broom overlay surface has dried and cured sufficiently (approx 2-6 hours), it can accept stains and secondary colorants, and is also ready to receive a sealer. Typical applications would utilize an acrylic sealer such as Super WB or Colortec Pigmented Acrylic Sealer.
See More