Westcoat EC-38 Liquid Dazzle Epoxy - 1.5 Gallon
Washington private residence using Liquid Dazzle.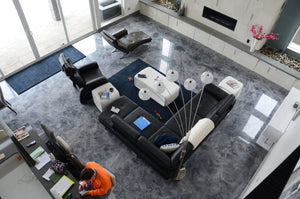 ---
About
Liquid Dazzle® is a 100% solids epoxy floor coating system. There are proprietary metallic additives in EC-38 Liquid Dazzle® Epoxy that create an evolving drift dynamic in this extraordinary floor coating system. Liquid Dazzle® is a decorative, durable, mar and chemical resistant coating, available with a high gloss or flat finish. Liquid Dazzle® is designed for use in hotels, casinos, showrooms, salons, restaurants and residential floors. Liquid Dazzle® is designed to be used on interior floors when a truly unique floor coating is desired.
Specs
Coverage: ~50 sq ft. per US gallon
VOC Content: < 100 g/l
Mix Ratio: 2:1 (By volume)
Instructions
Inspection
The surface must be structurally sound, clean, dry and free of grease, paint, oil, dust, curing agents, laitance or any foreign material that will prevent proper adhesion. The concrete shoudl be at elast 2,500 PSI and porous or rough enough to allow the product to soak in. A minimum of 28 days curing time is required on all concrete. Prior to starting work, test existing concrete slab for efflorescence, moisture and hydrostatic pressure.
Preparation
Pre-cut and clean all cracks and joints with a concrete diamond blade to at least 1/4 x 1/4 inch. Prepare concrete to a profile equal to CSP 3-4 as specified by ICRI. Methods may vary according to the condition and hardness of the concrete. Other factors include the forecasted use of the surface and the environment in which it is to be installed. When preparing the surface use caution when shot blasting, scarifying too aggressively, leaving grind marks or grinding too smooth.
Moisture
All concrete should be tested for moisture before applying a seamless coating. If moisture emissions exceed 5 lbs/1000 square feet/24 hours (ASTM F1869) or if the relative humidity (RH) exceeds 75% (ASTM F2170), contact the manufacturer before application.
Mixing
Premix each component separately. For color consistency, box all part A's. In a clean bucket, mix 2 parts A with 1 part B (by volume) of EC-38. Mix thoroughly with a low speed (200-300 rpm) drill motor for 4-5 minutes. Make sure to scrape the sides and bottom of the container during mixing. After mixing is completed, remove material from container within 5 minutes, as epoxy will begin to generate heat. Spread immediately onto the floor. As product is spread out, you will have longer working time (10-15 minutes at 70F degrees).
Thinning
Thinning of EC-38 is not recommended.
Coverage
Coverage will vary depending on condition of surface and desired thickness. As a coating: approximately 50 square feet per gallon.
Applying Product
Apply EC-38 with an 1/8 inch notched trowel, being sure to get even coverage over the entire floor, to achieve the published coverage rate. Back roll the EC-38 with a loop roller to create an even look. To help reduce the possibility of bubbles, you may use a porcupine roller at this stage of the application.
To avoid bubbles, best to apply EC-38 when temperature is dropping and in an area that is not in direct sunlight.
After loop and porcupine rolling, the dynamic drift begins to change the look of the coating.
Dry Time
You may apply a topcoat as soon as the surface is dry to touch or in about 8-10 hours, but no later than 24 hours. Light foot traffic may be permitted in 24 hours, heavy foot traffic in 48 hours and vehicle traffic in 3 days. All times are based on average temperature of 70F degrees and 50% humidity. Cooler temperatures will increase drying time.
Clean Up
Uncured material should be removed with an environmentally-safe solvent. Cured material should be removed mechanically.
Limitations
This product is designed for professional use only.
Be sure to measure and mix properly. Be aware of the pot life of mixed epoxy.
Be sure to patch and prime until the surface is smooth, even and very level.
Do not apply when temperatures are below 50F degrees or above 90F degrees. Hot or cold weather will affect dry times.
Epoxy must be cured for a minimum of 24 hours before coming in contact with water.
For interior use only.
Do not allow Westcoat products to freeze.
Health Precaution
Inhalation of vapor or mist can cause headache, nausea irritation of nose, throat, and lungs. Avoid breathing vapors, it is strongly recommended that respirators are worn. Prolonged or repeated skin contact can cause slight skin irritation. All epoxies have the potential of causing skin irritations or allergic reactions. Be careful not to get on skin, clothes or in eyes. Gloves are strongly recommended. If splashed in the eye, flush with warm water and contact a physician if blurring persists.
Slip Precaution
Westcoat Specialty Coatings Systems highly recommends the use of a slip-resistant additive to all coatings/systems that may be exposed to wet, oily, greasy or slippery conditions. It is the end user's responsibility to provide a flooring system that meets current safety standards. Westcoat and its distributors will not be responsible for injury incurred during a slip and fall incident. For the current coefficient of friction requirements, please consult your local building codes.
See More