Schönox EPA 100% RH Epoxy Moisture Mitigation Sytem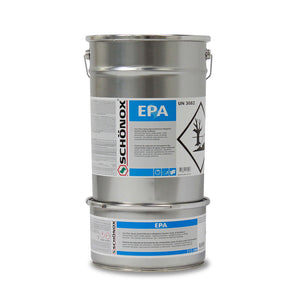 ---
About
Schönox EPA is a two-Part, fast-drying, epoxy-based moisture mitigation system and migration marrier suitable on porous, concrete slabs with residual moisture up to 100% RH or 25 lbs./1000 sq. ft./24 hrs. in interior or exterior areas before applying Schönox underlayments.
Specs
Basis: tw-part epoxy
Color: transparent-amber
Density: 1.09 kg/l (mixture)
Storage temperature: not below 41°F
Working temperature: 40min. at 65ºF
Working temperature: not below 50ºF floor temperature
Maximum Coverage per unit: 290 sq.ft.
Ready for leveling: approximately 4 hours at 65ºF floor temperature
Instructions
Recommended method of working:
Thoroughly mix the Schönox EPA resin (component A) with the

Schönox

EPAhardener (component B) to a homogenous mix (approx. 3 minutes) using a low speed mixer (approx. 150 rpm) preventing entraining air. Refill the mixed material into a clean bucket and mix again for approx. 1 minute.
Apply the mixed

Schönox

EPA evenly across the area and spread with a squeegee/notched squeegee avoiding moving too fast allowing

Schönox

EPA to saturate the concrete surface. After a waiting time of approx. 15 - 30 minutes saturate a 3/8" nap roller and begin to back roll to evenly distribute the epoxy film over the surface avoiding puddles.
After a drying time of approx. 4 - 6 hours (no transfer to the touch at 65°F floor temperature) prime with

Schönox

SHP following the referring product data sheet prior to install a

Schönox

underlayment or patching and smoothing compound.
If any following materials are not applied within the first 24 hours after drying of

Schönox

EPA, then always rough the top surface of

Schönox

EPA up using a suitable pad, but without affecting the moisture mitigation properties.
Do not dilute

Schönox

EPA.

Schönox

EPA is not a crack isolation membrane.
Note: Mixed material left in the mixing container will generate intense heat. In this case, do not touch container! Close lid loosely and transport the container by the handle outdoors until it sets to a disposable cool solid.
If the concrete surface is sufficiently smooth and level,

Schönox

MSP CLASSIC Wood Flooring Adhesive and

Schönox

EMICLASSIC, Universal Pressure Sensitive Adhesive or SCHÖNOX ROLL AND GO Rollable Adhesive may be applied directly to

Schönox

EPA after curing but within the first 48 hours after

Schönox

EPA has been installed.
See More