Surecrete WallStamp Vertical Microcement Overlay - 40 lb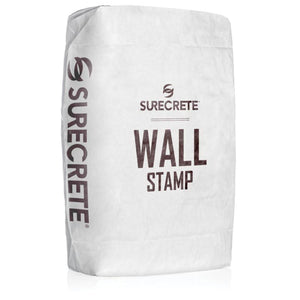 ---
About
SureCrete's WallStamp is a stampable lightweight, cement-based overlay designed for both interior and exterior vertical surfaces. Specially engineered for vertical application, you can apply at 3/4 with little to no slumping. When stamped, the texture can resemble cut stone, random stone, brick, slate, and more.
Calculator
How many square feet is your project?
*Note: Coverage rate varies based on substrate and application techniques
| Thickness | 40 lb bags |
| --- | --- |
| 1/8" | |
| 1/4" | |
| 3/8" | |
| 1/2" | |
| 3/4" | |
| 1" | |
| 1-1/4" | |
| 1-1/2" | |
| 1-3/4" | |
| 2" | |
Specs
Coverage Approx: 18 square foot @ 3/8″ (Varies based on substrate and application)
VOC Content: 0 g/L
Shelf Life 1 year in original unopened container
Mixing Ratio: 5-6 quarts water per 40 lb bag
Base Color: Light Gray
Density: 118 lbs/cubic foot
Compressive Strength: ASTM C-109: 2,600 PSI @28 days
Flexural Strength: ASTM C-348: 950 PSI @ 28 days
Tensile Strength: ASTM C-190: 140 PSI @ 28 days
Abrasion Resistance: 28 days %loss – 500 cycles – less than 0.40%
Mosaic Shear: ANSI A 118.4: 275 PSI @ 28 days
Water Permeability: ASTM D2247: Passes Freeze/Thaw @ 50 cycles
Instructions
Any surface receiving a cement overlay coating must be clean, cured, sound and profiled.
Make sure that temperatures will remain between 50 and 90 degrees Fahrenheit and there will be no precipitation in the applied areas for a 48 hour period following application.
Add 5 quarts of water per bag of Wall Stamp to a 5 gallon bucket and mix in your integral color.
Slowly introduce Wall Stamp while continuously mixing. Mix for a minimum of 1 minute once the whole bag has been added to your bucket.
Scrape the inside of the bucket to make sure there are no "dry pockets" of material that have not mixed properly.
An 1/8" - 3/16" base coat is recommended when using Wall Stamp.
Fiberglass mesh is required if bridging dissimilar or cracked substrates.
Trowel a tight thin coat to the substrate, using as much force as can be achieved with a hand trowel.
Trowel 100% coverage, leaving no bare spots, a minimum of 1/8" material.
Base coat must not be completely dry for application of finish coat. If it cannot be finish coated, scratch with stiff bristle brush.
Wall Stamp may be applied in multiple lifts up to 1/2″ thick at a time.
Once the finish coat begins to dry, yielding to one's finger without sticking, you can begin to tool your finish.
Once the surface is dry to the touch it can accept stains, secondary colorants, and a sealer. Typical applications would utilize an acrylic sealer such as Super WB or Colortec Pigmented Acrylic Sealer.
See More