Interior Use Only Ready-Mix Pigments by Interstar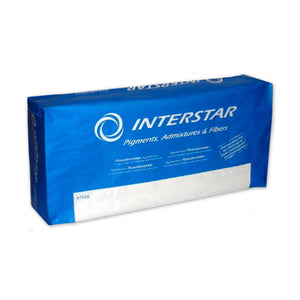 ---
About
Interstar Interior Ready-Mix Concrete Pigments is best for decorative concrete, precast, poured in place concrete construction and should be used indoors only.
Specs
1 bag = 1 cubic yard
Bulk Density: 0.3 - 1.2 grams per cubic centimeter
pH: 4.0 - 10.0
Instructions
Caution: Never add extra water to a batch of colored concrete. Any differences in slump in successive batches will result in color variations in the concrete. Never use calcium chlorides or any accelerators.
The truck mixer drum must be completely clean with no leftover water or aggregate before mixing a new batch of colored concrete.
The slump must range from 3 ½" to 4". If air is entrained, it should range from 5% to 7%.
Before adding the bags of pigment, reverse the truck mixer to bring the concrete to the back of the mixer.
Place half the bags of color on top of the concrete.
Please Note: Steps 5 & 6 are critical for proper dispersion.
Slowly move the concrete back to the front of the mixer, and start mixing at a slow speed until the bags are drawn into the concrete mix. Mix slowly for 2-3 minutes.
Increase the speed of the mixer to a medium-high rotation for 2-3 minutes.
Reverse the mixer to bring the concrete to the back of the mixer and add the remainder of the color bags.
Repeat steps 5 & 6 with the other half of the bags.
Move the concrete mix from the front to the back of the mixer 3 or 4 times to pick up any pigment and concrete that may not have been incorporated into the mix.
Mix for a total of 10 to 15 minutes at regular mixing speed.
Note: Always place the first concrete down the chute of each load on the bottom of the slab.
See More