Schönox HPS 92 Acrylic Adhesive for Resilient Flooring 4-Gallon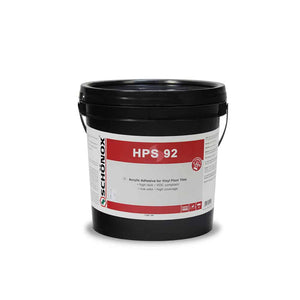 ---
About
Schönox HPS 92 Acrylic Adhesive for Resilient Flooring is suitable for bonding of Vinyl Composition, Vinyl Enhanced and Solid Vinyl Floor Tile on porous and non-porous substrates in interior areas.
Specs
Basis: acrylic dispersion with bonding additives
Color: tan
Density: approx. 1.20 kg/l
Storage temperature: not below 41°F
Working temperature: not below 59°F
Open time: approx. 120 minutes
Drying time: approx. 48 hours
Final strength (prior to maintenance routine): 5 days
Coverage per 4 gal. unit when applied with notched trowel 1/32" x 1/16" x 1/32": 1280 sq.ft
Instructions
Recommended method of working
Stir SCHÖNOX HPS 92 well before use.
Apply the adhesive using the appropriate notched trowel (1/32'' x 1/16" x 1/32") evenly over an area that can be covered within the open time of the adhesive. Testing of the recommended trowel is essential to ensure a good wetting.
After the appropriate waiting time, the conditioned and unstressed Vinyl Tile is laid into the adhesive. On porous substrates: install flooring into wet or dry phase of the adhesive. On non-porous substrates: install during the "contact phase" (dry to the touch). If in doubt, we recommend testing in a small area.
Rub the covering down and roll it immediately (over non porous substrates) or after approx. 30 minutes (over porous substrates) in both directions using a 100 lb. roller. Roll again after a short waiting time.
Wait at least 48 hours before grooving or welding.
Remove fresh securing spots by using soapy water, dried spots clean with suitable cleaning wipes.
Clean tools in water immediately after use.
See More