Schönox TS Impact Sound and Heat Insulation Underlayment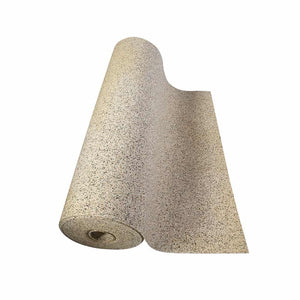 ---
About
Schönox TS Impact sound insulation underlayment is suitable for improving impact sound insulation, heat insulation, and living comfort in residential areas.
Specs
Basis: granules of cork and urethane
Color: brown / black mi
Material thickness: appox. 3 mm / 1/8"
Sheet width: 1,00 m / 3.28 ft
Roll length: 20 m / 65.61 ft
Roll weight: approx. 33 kg / 72.75 lb
Mass per unit area: approx. 1,65 kg/m2 / 0.34 lb/sq.ft.
Impact Insulation Class: - approx. 17 dB following ISO 10140 (sound improvement without floor covering)
Impact Insulation Class: - dIIC 20dB following ASTM E2179 (increase in impact insulation when installed underneath SCHÖNOX APF)
Thermal insulation: approx. 0.04 m² K/W following ISO 8302
Temperature resistance: -30°C up to +80°C / -22°F up to 176°F
Instructions
Recommended method of working:
Always acclimate accordingly prior to the installation.
Precut

Schönox

TS in released condition as required. Schönox TS is laid out sheet to sheet, but 90° to the proposed direction of the floor covering to be installed.

Schönox

TS is fully bonded to the properly prepared substrate and rubbed or rolled down after installation. We recommend to use

Schönox

EMICLASSIC, General Purpose Acrylic Adhesive, to install

Schönox

TS to suitable substrates and to install suitable floor coverings to

Schönox

TS following the technical data sheet.
Suitable wood flooring (engineered wood, tongue and groove) is installed using a suitable Wood Floor Adhesive.
After installing

Schönox

TS using

Schönox

EMICLASSIC,

Schönox

APF may be installed over

Schönox

TS at a minimum thickness of ¼" (after priming with

Schönox

SHP) achieving loading capability and impact sound insulation as mentioned above following ASTM C627 and ASTM E2179.
When installing

Schönox

TS over wood substrates or ceramic tiles, prepare voids and joints accordingly to avoid telegraphing after intensive use of the new floor covering.
Always install an adequate number of properly located test areas to include the finish flooring, to determine the suitabilityof the product for its intended use.
As the resistance of resilient floor coverings to castor wheels and indentation can be affected when installed to

Schönox

TS, always contact and rely upon the floor covering manufacturer for specific directions such as substrate requirements, adhesive selection and intended end use of the product. If higher loadings are to be expected,

Schönox

RENOTEX may be embedded into a skim coat of

Schönox

SL over

Schönox

TS to reduce the risk of indentations.

Schönox

cannot be held responsible for plasticizer migration from old resilient floor coverings resulting in discolorations of the new floor covering to be installed. When necessary, reduce the risk of plasticizer migration of non-porous resilient floor coverings by applying

Schönox

SHP prior to a skim coat of SCHÖNOX SL.
See More