Surecrete ColorTec 400WB Polyurethane Topcoat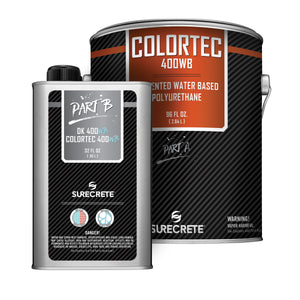 ---
About
ColorTec 400 is a 2 component 51% solids, solvent acrylic aliphatic polyurethane designed as a non-yellowing thin mil color coating for interior concrete, cement based overlays, or as a top finish coat on epoxy systems. The high performance pigmented top coat generates the premier balance of strength, added UV stability, flexibility, chemical and scratch resistance that is both user-friendly and extremely durable.
Ideal for use in:
Manufacturing facilities and warehouses
Bars, clubs, and restaurants
Retail stores and automotive showrooms
Residential interiors, garage floors, gyms, and locker rooms
Calculator
How many square feet is your project?
NOTE: Coverages provided are based on a coverage rate of 350 square feet per gallon per coat. Your coverage may vary based on your concrete's porosity.
Specs
VOC Rating: 400 g/L
Solids Content: 51%
Full Cure: 5-7 days (Up to 14 days at low temperatures)
Heavy Traffic Ready: 3 days (Up to 5 days at low temperatures)
Ready for recoat: 6-8 hours (18+ hours at low temperatures)