Westcoat SC-30 Acid Stain for Concrete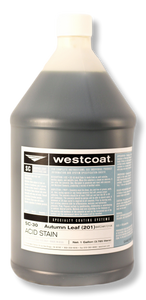 ---
About
Westcoat's SC-30 Acid Stain is made from an acid solution, wetting agents and metallic ions. When this solution is placed on concrete, it can color the concrete (or cement) by chemically combining the metallic ions with particles in the concrete to form oxides.
Calculator
How many square feet is your project?
NOTE: Quantities given are based on an average coverage of 300 square feet per gallon. Consider decreasing the amount required if you are planning to dilute for lighter color saturation or increasing if your concrete surface is heavily profiled and absorbent.
Specs
Coverage: approx. 200-400 sq. ft. per gallon on most surfaces
VOC Content: 0 g/L
Instructions
Preparation
For concrete, the surface should be at least 2500 psi and have cured for a minimum of 28 days. Prepare concrete to a profile equal to CSP 2-3. The concrete should be porous and be able to absorb water. Prior to starting work, test existing concrete slab for efflorescence, moisture and hydrostatic pressure. Prepare surface by sanding, power washing and/or power scrubbing to achieve a clean, uniform surface that will allow product to soak in and react with the cement in the concrete. Acid washing is not recommended and will be detrimental to the final effect. Clean surface entirely with TSP and/or a degreaser and rinse completely several times with clean water.
Thinning
Thin SC-30 with up to 5 parts of water for staining concrete and up to 20 parts of water when applying over Westcoat cements. Always do a sample before beginning the job. Thinning will effect the depth of color.
Coverage
The coverage will vary depending on the surface. Apply as thin as possible at 200-400 square feet per gallon on most surfaces, depending on the strength and porosity of the concrete and desired color.
Applying Product
Before beginning any project, it is recommended that a mock-up be installed, to help indicate the overall look and finish.
Using an acid-resistant sprayer with a conical tip, spray the SC-30 Acid Stain onto the surface evenly. Immediately after spraying , brush or broom the material into the concrete in a circular fashion. For best results, avoid brooms with stiff bristles, as they can cause the stain to fling onto undesired surfaces, such as adjacent walls. After brooming in the stain, you may spray the surface again lightly. This can help reduce the chance of broom marks. The surface may be pre-dampened with water to increase the movement of the acid.
Whether brushing or brooming, do so consistently, as it will affect how the acid reacts. As you brush the acid, it will foam and react with the concrete. Varying degrees of foaming will occur and some colors may not show right away. Apply fresh acid ahead of the brush. The foamed material should not be applied to an untreated area, as it will not chemically stain the surface properly. Additional applications may be done to darken the surface further, after the first application has dried. (You may also work 2 to 3 colors into the surface to achieve a unique look).
Once the surface has reacted and dried (usually 2-6 hours), you must scrub with water and rinse off all residue completely. This could be considered the most difficult part of the application. You can take advantage of this time to confirm the color, as the water will stimulate the "wet look" of most sealers. Additional stain may be applied at this point, but you need to rinse again. Make sure to scrub, mop and completely rinse the surface 2-3 times and wet vacuum until dry. Be sure to safely and properly dispose of the residue.
Failure to completely remove all residues prior to sealing the surface will cause appearance defects, adhesion loss or peeling, reduced durability and possible bonding failure and delaminating of the sealer.
Clean Up
Uncured material should be removed with soap and warm water. Cured material should be removed mechanically or with an environmentally-safe solvent.
Limitations
This product is designed for professional use only.
Do not apply at temperatures below 50F or above 90F.
Be sure to paper off any areas that you do not want stained.
Will not hide imperfections or stains in concrete.
Acid Stain will stain concrete and can produce a mottled look. Colors and effects will vary.
Older concrete may not accept stain.
Acid Stain will fade over time with prolonged exposure to sunlight.
Do not allow any Westcoat products to freeze.
See More