Westcoat CA-36 Epoxy Color Pack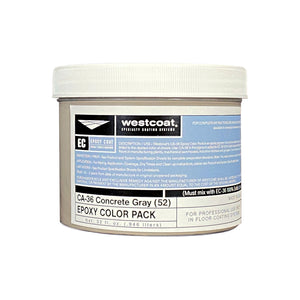 ---
About
CA-36 is the pigment added to EC-36 100% Solids Epoxy and together they are used to create industrial seamless floors in manufacturing plants, mechanical warehouses, industrial kitchens and garages. It can be used as a primer coat, filler coat, broadcast coat or topcoat.
Specs
Package: 32 fl. oz. container
VOC Content: <100 gm/l
Available Colors: Cape Cod Gray, Concrete Gray, Deep Tan, Pewter Gray, Tile Red, Travatan
Mix Ratio: 1-quart per 3-gallon mix of Epoxy
Shelf Life: 2 years in unopened packaging
Instructions
Mixing
Premix each component separately.
Add one 32 fluid ounce unit of CA-36 per 3 gallon kit of EC-36 Epoxy.
Mix the entire contents of CA-36 into the EC-36 Part A and mix thoroughly, before combining the Part B.
Mix thoroughly with a low speed (400-600 rpm) drill motor for 3-4 minutes.
Make sure to scrape the sides and bottom of the container during mixing.
After mixing is completed, remove material from container within 5 minutes, as epoxy will begin to generate heat.
Spread immediately onto the floor. As product is spread out, you will have longer working time (10-15 minutes at 70°F).
See More