Schonox KH Fix Acrylic Primer - 2.5 Gallon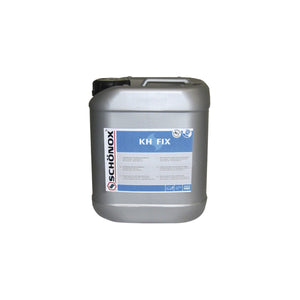 ---
About
Ready Mixed, Solvent-Free Acrylic Primer especially suitable on existing gypsum substrates to bind residual dust, reduce absorbency, and improve adhesion. Interior and Exterior use.
Specs
Coverage: depends on porosity of substrate
Storage Temperature: not below 41ºF
Working Temperature: not below 59ºF
Density: 1 kg/L
EC 1 Plus: very low emission Plus
LEED: EQc2 Low-Emitting Materials - 1 to 3 points
VOC Content: 0 g/l (calculated), SCAQMD 1113
Instructions
Applications
SCHÖNOX KH FIX is suitable as a primer:
to reduce absorbency of porous substrates.
to improve adhesion on suitable substrates.
to protet gypsum based substrates against moisture from following leveling compounds and thin-sets.
to bind residual dust and improve adhesion before fitting luxury vinyl tiles in interior areas using the SCHÖNOX ROLL AND GO adhesive in residential and commercial areas.
Substrates
SCHNOX KH FIX is suitable on:
gypsum based substrates
concrete, cement based substrates
old water-resistant adhesive residues
gypsum board (walls)
as well as on:
SCHÖNOX self-leveling compounds, preferably SCHÖNOX AP, or smooth porous concrete prior to install LVT using the SCHÖNOX ROLL AND GO adhesive following the referring product data sheets.
Mixing Ratio
Subfloors must be smooth, sound, clean, dry, and free of any contaminants, which may hinder adhesion.
Surface treatments or any "friable" areas of the subfloor must be mechanically removed and the subfloor repaired with SCHÖNOX underlayments as required.
All slabs on or below grade level must be known to have an intact vapor retarder directly beneath the concrete in conformance to the relevant standards. If in doubt, please contact our SCHÖNOX representative for further advice.
This product is not a vapor barrier and will allow free passage of moisture. Follow the directions of the floor covering manufacturer regarding the maximum allowable substrate moisture content and test the substrate prior to installing SCHÖNOX KH FIX. Where substrate moisture exceeds the maximum allowed then application of SCHÖNOX SDG PLUS, SCHÖNOX MR 18 or SCHÖNOX EPA may be used to suppress residual moisture.
Gypsum substrates should always be dry. Do not use moisture mitigation systems on gypsum substrates.
Gypsum substrates should be grinded and vacuumed prior to further treatment.
Extremely porous substrates may require a second primer coat to avoid the following underlayment to be affected (pin-holing, surface irregularities). Apply second coat when first coat is dry to the touch, drying time of second coat 4 hours.
Old water-soluble adhesives should be removed completely, old water-resistant adhesives should be mechanically removed as far as possible. The complete mechanical removal of cutback (i.e. grinding, sanding, blasting) can be hazardous as old cutback adhesive may contain asbestos. Do not sand or grind adhesive residue. Refer to the Resilient Floor Covering Institute's publication "recommended work practice for removal of resilient floor coverings" for instruction. Primer remaining adhesive residues accordingly.
The requirements of the relevant valid standards, guidelines and data sheets apply.
Recommended Method of Working
SCHÖNOX KH FIX is stirred or shaken before use.
Apply SCHÖNOX KH FIX using a suitable tool such as the SCHÖNOX KH FIX ROLLER, a short nap or fine pored roller. Avoid formation of puddles.
Clean tools in water immediately after use.
Instructions
Always install an adequate number of properly located test areas, to include the finish flooring, to determine the suitabillity of the product for its intended use. As floor coverings vary, always contact and rely upon the floor covering manufacturer for specific directions such as maximum allowable moisture content, adhesive selection, and intended end use of the product.
Low substrate temperatures and/or high ambient humidity require longer drying times for primers.
Disposal
Empty canisters and dispose of in accordance with federal, state, and local waste disposal regulations.
Precautions
Avoid eye and skin contact. Close container after each use. Do not reuse container. Do not flush primer down drains, sewers, or waterways.
See More